Veterinary
Tigilanol tiglate, branded STELFONTA®, is approved in Europe (EU) under the European medicines Agency (EMA) and Switzerlands Swissmedic, and in the United Kingdom (UK) under the Veterinary medicines Directorate (VMD) as a pharmaceutical treatment for all grades of non-metastatic, unresectable mast cell tumours in dogs1. It is marketed across the EU and the UK in partnership with Virbac, a global animal health company. STELFONTA is also under late-stage review by the US Food and Drug Administration – Center for Veterinary Medicines (FDA-CVM) and the Australian Pesticides and Veterinary Medicines Authority (APVMA),
In a pivotal, multicentre, randomised, blinded and controlled study conducted in 123 dogs, a single treatment with tigilanol tiglate completely destroyed (Complete Response) 75% of mast cell tumours, compared to the control group (p<0.001)1. See figure below. A second tigilanol tiglate treatment of the partial responders increased the Complete Response rate to 88%, with no local tumour recurrence in 93% in dogs at 84 days post treatment2 and no recurrence in 89% of evaluable cases at 12 month spost treatment. Importantly, tigilanol tiglate was very well tolerated and animals had a good quality of life during and after treatment2.
Further clinical trials are in progress in Australia, the USA, Europe and the UK to determine efficacy in other solid tumours and in other veterinary species, for example canine soft tissue sarcoma, and equine sarcoids.
Pivotal clinical trial results
Pivotal clinical trial case study.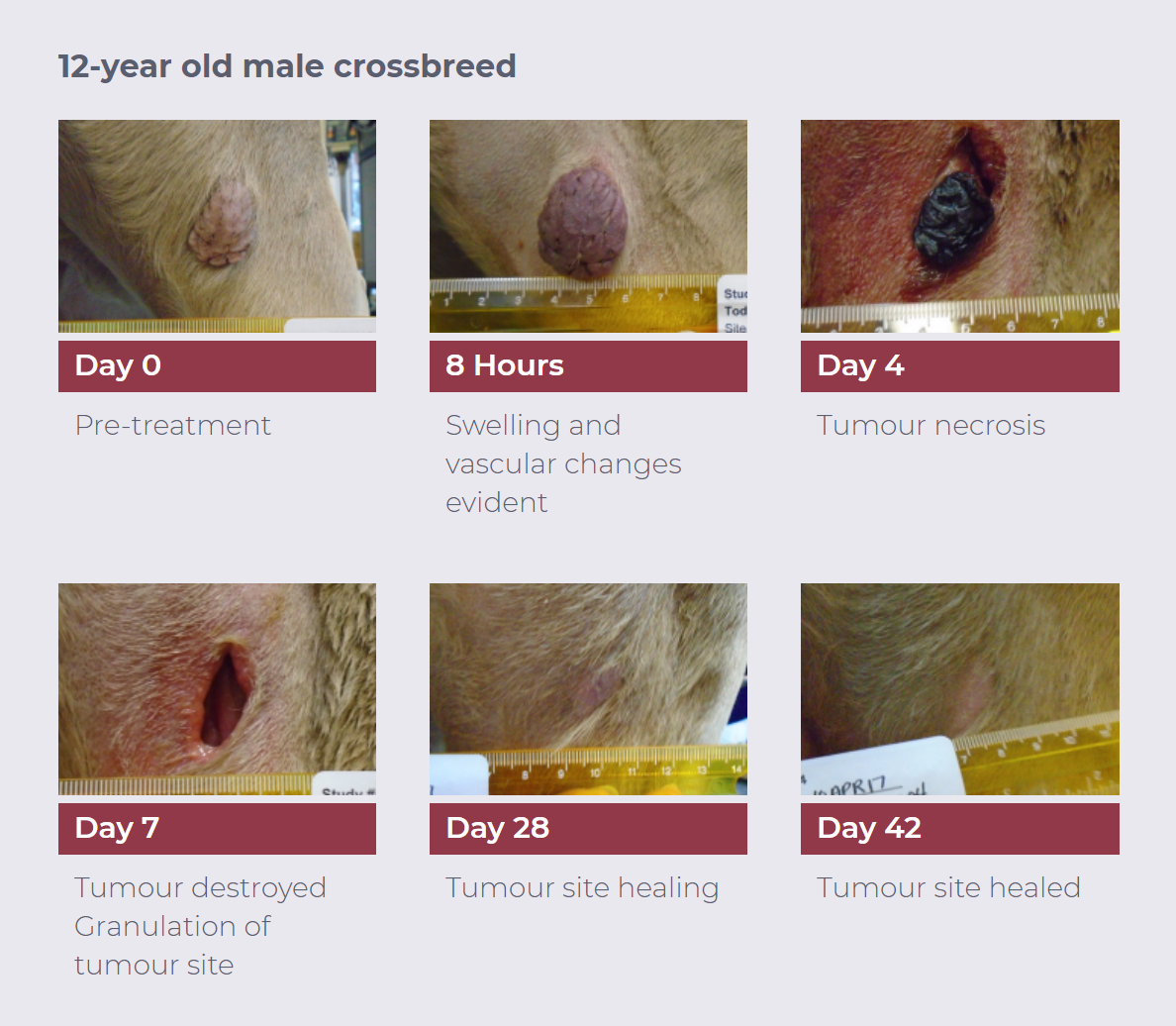 At QBiotics we are proud to be a small part of an important movement driving advances in oncology. Our recently registered pharmaceutical to treat canine mast cell tumours, STELFONTA (tigilanol tiglate)1, is backed by a rigorous clinical research programme2 that we are committed to continuing, with the aim of improving the health of companion animals. Consequently, we are excited to launch the QBiotics' Research Grant, to support veterinary oncologists and those with a special interest in oncology to deepen our collective understanding of the potential to use STELFONTA to treat solid tumours.
Contact Dr Pamela Jones to apply.
Market need
Dogs
Mast cell tumours are the second most frequent cancer diagnosed in dogs, accounting for up to 21% of skin cancer cases1. STELFONTA is the first pharmaceutical treatment available for all grades of canine non-metastatic mast cell tumours2. It represents an attractive additional treatment option for mast cell tumours, especially where tumours are difficult to remove because of their location3 and in older dogs, where anaesthesia carries inherent risks4. Generally, dogs undergoing treatment do not need to be sedated or general anaesthesia.
Horses
Sarcoids are the most common skin tumours in horses, accounting for 12.5% to 67% of all skin cancers6. They are locally invasive tumours that form fibroblasts6, which product connective tissue7. Currently available treatments, which include surgery, cryotherapy, hyperthermia, radiotherapy, chemotherapy, immunotherapy, topical immune modulation and antiviral agents, all have variable degrees of success6. Consequently, there is significant need for an efficacious and safe treatment for solid tumours in horses. There is currently no registered treatment specific for treating equine sarcoids.
Preliminary case studies with tigilanol tiglate in horses with sarcoids, squamous cell carcinomas and melanoma, have shown promising results8 and further clinical studies are currently underway.
Cats
Current treatment options for solid tumours in cats are limited9. Surgery is the mainstay for solitary tumours and when surgery is not possible, treatment is often palliative at best10. Consequently, there is significant need for an efficacious and safe treatment for solid tumours in cats.
Clinical case studies with tigilanol tiglate treatment of a range of tumour types in cats have shown initial encouraging results11, and further investigations are underway.
---
QBiotics. Data on file.
Brakke Consulting Report, September 2017. Cancer in dogs and cats.
Lowe R, et al., Vet Comp Oncol 2017;15:775–84.
Brodbelt D, Vet J 2009;182:152–61.
Taylor S, Haldorson G. Equine Veterinary Education 2013;25(4):210-216.
Britannica. Fibroblast. Available at: britannica.com/print/article/205914 (accessed 8 September 2020).
QBiotics. Data on file, equine case studies.
Blackwood L. Journal of Feline Medical Surgery 2013;15:366-377.
QBiotics. Data on file, feline case studies.